DEFINING THE FUTURE: RESEARCH, TECHNOLOGY & INNOVATION
The 2nd SNAS Annual Academic Conference
Fairleigh Dickinson University (FDU), Madison, NJ
October 6, 2023
Abstract Submission Deadline Extended To AUGUST 15!!!
Hybrid Option Added, Remote Presentations Will Be Scheduled!!! 
Nature and Scope of the Conference:
Recent technological advancements create excitement as well as anxiety for researchers, academics, and society alike. Are we set for a revolution like no other, or as Pfaffenberger (1988) puts it, will the social change that may result be much different from what the innovators intend? As a pervasive and interdisciplinary concept, innovation has always been of interest to academics from a variety of backgrounds. However, OpenAI, automation, robotics, gene technology, blockchain technologies provide additional inspiration for a more innovative future. The 2023 SNAS Annual Conference invites conceptual and empirical research paper abstracts on, but not limited to, the following topics:
Higher education is on the verge of significant disruption. What will be the role of higher education in preparing young minds for the future?
What will be the future of engineering research at the intersection of social change?
Innovative research practices and how researchers stay at the cutting edge of these practices.
How should social research and evaluation frameworks evolve in the age of automation and AI?
What are the responsibilities of policymakers and governmental institutions in both expanding research opportunities and facilitating ethical and human-centered systems of research and innovation?
What possibilities exist for interdisciplinary research to advocate for equity, human rights, and well-being?
Social science research and the history of innovation.
Given the impact of new technologies on education (remote learning, digitalization, ChatGPT, etc.), what should be the purpose of education and the role of educators?
What are the responsibilities of the business world in ensuring that technological advancements translate into a more sustainable future?
Pfaffenberger, Bryan (1988), "The Social Meaning of the Personal Computer: Or, Why the Personal Computer Revolution was no Revolution," Anthropological Quarterly, Vol. 61, No:1.
Keynote Speaker: Dr. Mike Hind, Distinguished Research Staff Member, IBM Research
"Trustworthy AI: Challenges and Opportunities"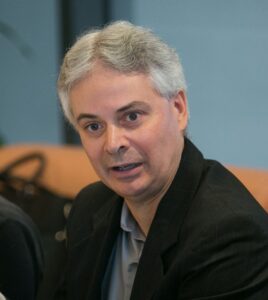 Michael Hind is a Distinguished Research Staff Member in IBM Research, where he leads the AI FactSheets project, focusing on AI risk, transparency, and governance. He received his PhD in Computer Science from NYU and previously was an Assistant and Associate Professor of Computer Science at SUNY New Paltz.  He has authored over 50 publications, served on over 50 program committees, and given several keynotes and invited talks at top universities, conferences, and government settings.  With his IBM colleagues, he has launched several popular open-source projects, such as AI Fairness 360 and AI Explainability 360.  His work on Trustworthy AI has been recognized with an IBM Corporate Award.  Michael is an ACM Distinguished Scientist, and a member of IBM's Academy of Technology.
Opening Remarks: Benjamin Rifkin, Ph.D., Interim Provost and Senior Vice President for Academic Affairs, Fairleigh Dickinson University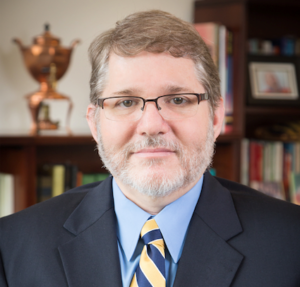 Dr. Benjamin Rifkin was named interim provost and senior vice president for academic affairs on May 1, 2023. He had previously served as Dean of FDU's Maxwell Becton College of Arts and Sciences. Among many efforts, he worked on two major curricular initiatives within Becton College. First, he worked with Becton College faculty, and faculty and staff beyond Becton College, to develop new interdisciplinary programs in leadership studies, public health, diversity, equity and inclusion studies, digital and multimedia storytelling, medical humanities, and integrative majors, combining the sciences and writing, the sciences and the arts, and the sciences and management. He also launched an initiative to infuse project-based learning in the arts and sciences curricula with learning tasks with students at partner institutions around the world, with the first pilot course to be taught in Fall 2023. Before coming to FDU in 2022, Dr. Rifkin served as a Professor of Russian and Dean of the College of Liberal Arts and Sciences at Hofstra University. He was previously the provost at Ithaca College and before that the Dean of the School of Humanities and Social Sciences at The College of New Jersey.
Conference Executive Committee
Submission Guidelines:
SNAS has a place for every well-developed topic, traditional or non-traditional, related to any innovation-related area of academic research. Empirical, conceptual, case-based, review research projects are all welcome. Student submissions are encouraged. The abstract submissions must be a maximum of 300 words and include the following elements: Research Motivation, Key Contributions, and Implications. Please clearly indicate the social implications of your research. Enter the author information in the registration form and remove all identifying information from the Word attachment. All abstract submissions will go through a blind-review process. Please do not refer to the author(s) in the abstract. For your presentation to be scheduled in the conference program, at least one author must become a SNAS member before the registration deadline.
Abstract Submission Deadline: July 31
Acceptance Notification Date: August 20
Registration Deadline: September 6
Please submit abstracts here! (Google account is required)
Location:
Fairleigh Dickinson University – Madison campus is conveniently located in the suburban New Jersey town of Madison, only 28 miles from NYC. This beautiful campus is on the grounds of the former Florham estate of Hamilton McKown Twombly and his wife, Florence Adele Vanderbilt Twombly, a member of the well-known Vanderbilt family. Landscape architect Frederick Law Olmsted, the designer of Central Park, was also commissioned to design the landscape for the Twombly-Vanderbilt estate (pictured on the right). Fairleigh Dickinson University is New Jersey's largest private institution of higher education, with over 12,000 students.
A special conference rate of $150 is available at the Madison Hotel in Morristown for conference participants. Set amidst a countrified and tranquil setting, the Georgian style façade and dramatic clocktower of The Madison Hotel has been a landmark for almost half a century. For booking instructions, please email info@snascholars.org and for more information on the hotel, please visit themadisonhotel.com.
Registration Fee and Payment:
At least one author must become a SNAS member to make a presentation. Membership benefits include receiving periodic email newsletters, discounted/waived registration fees for annual SNAS events, and voting rights in executive committee elections. Current SNAS members whose memberships expire after October 6 can present at the conference free of charge if their abstract submissions are accepted. Standing SNAS members are also able to attend the conference as an audience. All other participants must become members to attend the conference.
Annual SNAS Student Membership – $50
Annual SNAS Non-Student Membership – $100
Hosted and co-sponsored by